Code BEAM SF Profile: Miriam Pena
How did you come to be working with Erlang and what advantages does this give you as a developer?
Back when I was at university in La Coruña, Spain, I was inspired by both Victor Gulias, head of the MADS research group, and by my fellow computer scientists. I did my master's thesis optimizing a switch VLAN in Erlang and loved it so much that I then dedicated my whole professional career to deploying extremely complex systems in Erlang.
I personally like Erlang because of the short implementation times, I love how easy it is to make concurrent distributed systems and communication protocols. It is less verbose than other languages and so less prone to errors. With its stable API, it is also low maintenance. The fact that it is in high demand and you often get to work remotely, are a bonus too.
What did attending last year's conference mean to you, were there any talks or speakers that inspired you?
On a personal level I loved the talk about Grisp Hardware Boards from Peer Stritzinger as well as the orchestration of the talk from Hannah Howard. I also found out about the Elixir Bridge group through Anna Neyzberg. For AdRoll, the company where I work, attending the Erlang and Elixir Factory Conference last year was key for them in hiring two first class Erlang developers.
What inspired you to give the talk you are giving at Code BEAM SF - 'Unsung Heroes of the BEAM'
I have always avoided exposure, I never blog, yet I have created open source libraries like Mero. Last November I was elected as 'One of the 12 inspiring Silicon Valley staff engineers to watch in 2018,' by Women 2.0. This was then picked up by the press, and it just exploded! I was featured in more than 12 news pieces across tv, radio and print, in both Spain and other hispanic countries. I promoted Erlang as a technology to use for interesting and challenging projects. Enabling me to also travel around the world and build a successful career.
I was received very warmly by the public after all this press attention. Mothers said, "their daughters saw me on tv and now want to study computer science." Some people also told me that Erlang sounds really cool, and they are going to learn it! This made me realize how important it is to be out there for them and so I decided to contribute by taking action and giving visibility to other women.
I then looked at our community, whose women % ratio is smaller than the 20% tech industry average. Some say it might be around 7% despite our efforts to improve this. The idea then came to me, to talk about those women who helped and are still helping give shape to the Erlang community. Without some of these women we would not even be here reading this. It is important to give visibility to these women, to create the role models that will drive the next generation. I hope this talk in-itself will trigger something of a butterfly effect, to help create the next generations of women in Tech.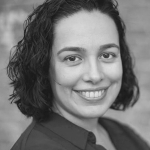 Author
Miriam has over 10 years of experience in scalable, high performance, high concurrency, and high availability systems. She is a Staff Engineer at AdRoll in San Francisco, designing critical parts of their Real-Time Bidding infrastructure. Prior to AdRoll, she provided Erlang specialized consultancy and earned her M.S. in Computer Science from La Coruña University in Spain. Voted one of the women to watch in 2018 by Women 2.0 here: https://you.women2.com/12-inspiring-female-staff-engineers-to-watch-b487b39558e1